D Tartaric Acid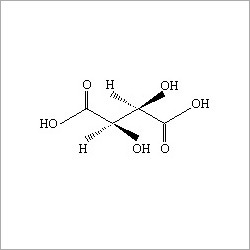 D Tartaric Acid
Product Description
Product details
Chemical name
Synonym

D () Tartaric Acid

D (1)-threo-2, 3-dihydroxy succinic acid

Empirical formula

C4 H6 O6

Molecular weight

150.10

CAS Registration

147-71-7
Standard Specification
Appearance

Melting range

A white to off white Crystalline powder

169-170C

Moisture content (by KF)

NMT 1.0% (w/w)

Assay (by titrymetry, %w/w)

Between 98.50% to 101.50%

Specific Optical rotation

Between (-)12 0 to (-)12.8 0 (C=1, Methanol)

Packing details

25 kg. net drums

Key end application

It is mainly used as sour agent, biochemical reagents, racemic materials splitting agent, medicine-splitting agent of beverage, sugar, bread, gelatin. Besides it can also be used as splitting agent, salt and ester of photography, can make, printing, dyeing, and ceramics.